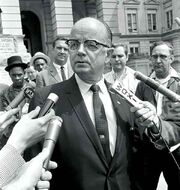 Lester Garfield Maddox, Sr.
(30 September 1915-25 June 2003) was Governor of
Georgia
(
D
) from 11 January 1967 to 12 January 1971, succeeding
Carl Sanders
and preceding
Jimmy Carter
, and Lieutenant Governor from 12 January 1971 to 14 January 1975, succeeding
George Smith
and preceding
Zell Miller
.
Biography
Lester Garfield Maddox was born in Atlanta, Georgia on 30 September 1915,  the son of a steelworker. He worked in an aircraft manufacturing company during World War II, and he opened a grocery store and restaurant in 1944. His Pickrick Restaurant became a thriving business due to its simple and inexpensive food (including its signature fried chicken), and he began to insert political cartoons into restaurant ads after Brown v. Board of Education in 1954. With the Civil Rights Act of 1964, Maddox refused to serve African-Americans, preferring to lease his restaurant out to employees rather than let them into his business. He claimed that he was upholding constitutional property rights, and he closed his restaurant on 7 February 1965 rather than integrate it.
Maddox became known as a strident racist and right-wing populist who depicted the government as the villain, instead of big business, and several Republican Party voters voted for him in the Democratic Party primary with the goal of having the divisive Maddox run against their popular candidate, Bo Callaway. Maddox was elected governor by the state legislature after the result was too close to call, and he maintained a states' rights and segregationist stance. He refused to allow for Martin Luther King, Jr. to lay in state in the Georgia state capitol after his assassination in 1968, endorsed George Wallace for president, and supported the Vietnam War. During his time in office, he increased teachers' salaries, reformed prisons and health care, encouraged state troopers to refer to African-Americans as "Mr." and "Mrs." instead of racial terms, and employed African-Americans as state employees, putting aside his personal views. Under the 1945 constitution, he could not run for a second term, and he was instead elected Lieutenant Governor. He was rivals with Governor Jimmy Carter, and he was defeated by George Busbee in the election to succeed Carter in 1975. In 1976, he won less than 1% of the vote as the American Independent Party's candidate for the presidential election, and he later became a comedian before failing to make political comebacks. He died in Atlanta in 2003 at the age of 87.
Ad blocker interference detected!
Wikia is a free-to-use site that makes money from advertising. We have a modified experience for viewers using ad blockers

Wikia is not accessible if you've made further modifications. Remove the custom ad blocker rule(s) and the page will load as expected.