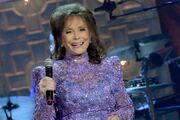 Loretta Lynn
(14 April 1932-) was an
American
country music singer-songwriter and the most awarded female country recording artist. Lynn was also a prominent supporter of the
Republican Party
.
Biography
Loretta Webb was born in Butcher Hollow, Kentucky, United States on 14 April 1932, one of eight children born to a father who worked as a coal miner and subsistence farmer. Lynn's father was a member of the Republican Party, while her mother was affiliated with the Democratic Party. In 1948, at the age of fifteen, she married Oliver Lynn, a country music talent manager. Her husband bought her a guitar in 1953, and she started her own band during the 1950s. She moved to Nashville and became a major country musician during the 1960s, and she wrote songs about blue-collar southern women dealing with philandering husbands, mistresses, and marital troubles. Nine of her songs were banned by radio stations, as she wrote about controversial subjects such as birth control, repeated childbirth, double standards for men and women, and being widowed by the draft during the Vietnam War. She also became known for her partnership with Conway Twitty for several duets during the 1970s. During the 1980s, she released more hits, and she continued making music over the next two decades. In 1988, Lynn and two of her musical sisters campaigned for Republican Party presidential nominee George H.W. Bush, and she supported Donald Trump during the 2016 presidential election. However, she allowed for "I Want to Be Free" to be used by PETA in a commercial, said that she believed "everybody to their own" in regards to gay marriage, advocated for ordinary women, and was a friend of Democratic president Jimmy Carter.
Ad blocker interference detected!
Wikia is a free-to-use site that makes money from advertising. We have a modified experience for viewers using ad blockers

Wikia is not accessible if you've made further modifications. Remove the custom ad blocker rule(s) and the page will load as expected.