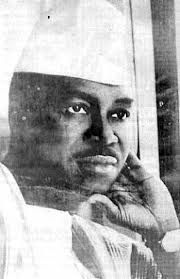 Louis Lansana Beavogui
(28 December 1923-19 August 1984) was Prime Minister of
Guinea
from 26 April 1972 to 3 April 1984, preceding
Diarra Traore
; he also served as President of Guinea from 26 March to 3 April 1984, succeeding
Ahmed Sekou Toure
and preceding
Lansana Conte
.
Biography
Louis Lansana Beavogui was born in Macenta, French West Africa on 28 December 1923 to an animist Loma family, and he was trained as a medic in Dakar, Senegal. In 1956, he was elected to France's National Assembly as a delegate from Guinea, and he became Economic Minister of Guinea in 1958 and Minister of Foreign Affairs in 1961 under Ahmed Sekou Toure. He alternated between the two posts for years, and he became the first Prime Minister of Guinea in 1972. In 1984, he became acting president on Toure's death, but he was overthrown in a military coup by Colonel Lansana Conte. He died of diabetes while hospitalized in Conakry in August 1984.
Ad blocker interference detected!
Wikia is a free-to-use site that makes money from advertising. We have a modified experience for viewers using ad blockers

Wikia is not accessible if you've made further modifications. Remove the custom ad blocker rule(s) and the page will load as expected.