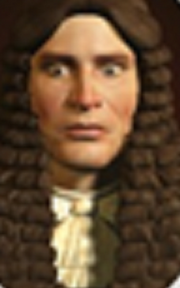 Ludwig Eugen I of Wurttemberg (also
Louis Eugene I
) (1666-1749) was the King of
Wurttemberg
from 1706 to 1709, following the death of
Eberhard Ludwig I of Wurttemberg
, his brother. Ludwig Eugen reigned for three years, his reign ending when the
Republic of France
took over Wurttemberg in the
War of the Grand Alliance
.
Biography
Ludwig Eugen was born in 1666 to wealthy parents, the King and Queen of Wurttemberg. Ludwig was the brother of Eberhard Ludwig, the future king of Wurttemberg. Ludwig was known to be honest and pious, yet had a harsh reputation as a monarch and was an agarian.
In 1706, at the age of forty, he became the King of Wurttemberg following the French occupation of Wurttemberg. He signed an armistice, but rejoined the Grand Alliance in 1708. Ludwig Eugen refused all peace emissaries sent by the Republic of France, which was a grave error. In response, France sent Joseph-Nicolas Jourdan and an army of several troops to conquer Wurttemberg, taking it down. Ludwig Eugen was stripped of his titles, his money, and his lands, and died peacefully in 1749.
Ad blocker interference detected!
Wikia is a free-to-use site that makes money from advertising. We have a modified experience for viewers using ad blockers

Wikia is not accessible if you've made further modifications. Remove the custom ad blocker rule(s) and the page will load as expected.