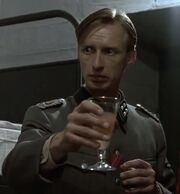 Ludwig Stumpfegger
(11 July 1910-2 May 1945) was a
German
doctor and
SS
Obersturmbannfuhrer
who served as
Adolf Hitler
's personal surgeon from 1944 to 1945. Stumpfegger and
Martin Bormann
killed themselves at the end of the
Battle of Berlin
in 1945.
Biography
Ludwig Stumpfegger was born in Munich, Bavaria, German Empire on 11 July 1910, and he studied medicine from 1930 onwards. He joined the SS on 2 June 1933 and the Nazi Party on 1 May 1935, and he obtained his doctorate in 1937. During World War II, he took part on medical experiments on men and women from the Ravensbruck concentration camp, and he became an SS Obersturmbannfuhrer in 1943 before becoming Adolf Hitler's personal surgeon on 9 October 1944. He gave a cyanide capsule to Hitler's dog Blondi to test how fast the poison worked, and he also helped with killing the Goebbels children. On 2 May, Stumpfegger and Bormann attempted to escape Berlin in a tank, but their tank was destroyed, and they were knocked off. They proceeded to kill themselves at the Lehrter station's railroad bridge.
Ad blocker interference detected!
Wikia is a free-to-use site that makes money from advertising. We have a modified experience for viewers using ad blockers

Wikia is not accessible if you've made further modifications. Remove the custom ad blocker rule(s) and the page will load as expected.