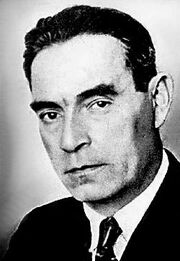 Marceli Nowotko
(8 July 1893-28 November 1942) was a founder of the
communist
Polish Workers' Party
.
Biography
Marceli Nowotko was born in Warsaw, Poland in 8 July 1893, and he worked as a locksmith before joining the Communist Party of Poland in 1918. He organized a Soviet communist agency in Ciechanow in 1918, and he was a Soviet intelligence officer in Lapy during the Polish-Soviet War of 1920. Nowotko served on the agriculture section of the Central Committee of the Communist Party of Poland during the Interwar Years, and he served in the Soviet administration of Bialystok after the Soviet invasion of Poland in 1939. In December 1941, he was parachuted into Poland to help with setting up the underground Polish Workers' Party during World War II, alongside fellow communist activists Boleslaw Molojec and Pawel Finder. Molojec arranged for Nowotko to be gunned down near a station in Warsaw on 28 November 1942, and he took over the party.
Ad blocker interference detected!
Wikia is a free-to-use site that makes money from advertising. We have a modified experience for viewers using ad blockers

Wikia is not accessible if you've made further modifications. Remove the custom ad blocker rule(s) and the page will load as expected.