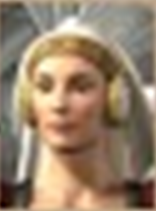 Maria "el Valiente" of Portugal
(1068-????) was a Portuguese princess who was the daughter of
Garcia II of Portugal-Galicia
. She married
Rodrigo
, the son and heir apparent of
Alfonso I of Castile
.
Biography
Maria was the daughter of Garcia II of Portugal, a Catholic monarch from Portugal-Galicia. Maria became known as a diplomat, and when she was sent to ask for trade rights with Castile in 1080 with Prince Rodrigo, Rodrigo made a counter-offer, asking her to marry him. She accepted happily, and the two became married, forging an alliance between Spain and Portugal.
Ad blocker interference detected!
Wikia is a free-to-use site that makes money from advertising. We have a modified experience for viewers using ad blockers

Wikia is not accessible if you've made further modifications. Remove the custom ad blocker rule(s) and the page will load as expected.