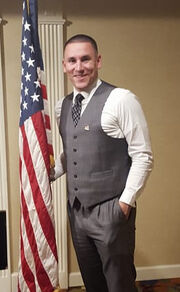 Matt Riccardi
was the
American Constitution Party
's candidate for Governor of
New Jersey
during the 2017 election.
Biography
Matt Riccardi was born in Union City, New Jersey, and he joined the US Marine Corps after graduating from Union Hill High School. He received his associate degree from Brookdale Community College after being honorably discharged, and he attended the University of Pennsylvania and Hofstra University. In 2017, Riccardi ran for Governor of New Jersey as the American Constitution Party candidate.
Ad blocker interference detected!
Wikia is a free-to-use site that makes money from advertising. We have a modified experience for viewers using ad blockers

Wikia is not accessible if you've made further modifications. Remove the custom ad blocker rule(s) and the page will load as expected.