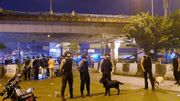 The 
May 2017 Jakarta bombing 
occurred at 9:00 PM on 24 May 2017 when the
Islamic State
carried out two
suicide bombings
at the busy Kampung Melayu terminal in east Jakarta,
Indonesia
, killing 3 people and injuring 10. The Transjakarta terminal in Kampung Melayu was targeted by two IS bombers as police were guarding a parade, and five policemen and five civilians were injured. Human body parts - including a severed head from one of the bombers - and shattered glass were strewn across the road after the attack, which came as Indonesia was placed on high alert due to IS plots.
Ad blocker interference detected!
Wikia is a free-to-use site that makes money from advertising. We have a modified experience for viewers using ad blockers

Wikia is not accessible if you've made further modifications. Remove the custom ad blocker rule(s) and the page will load as expected.