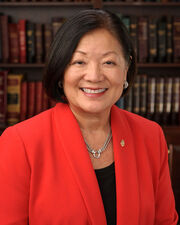 Mazie Keiko Hirono
(3 November 1947-) was a
US
Senator from
Hawaii
(
D
) from 3 January 2013, succeeding
Daniel Akaka
. Hirono had previously served as a member of the
US House of Representatives
from Hawaii's 2nd district from 3 January 2007 to 3 January 2013 (succeeding
Ed Case
and preceding
Tulsi Gabbard
) and Lieutenant Governor of Hawaii from 2 December 1994 to 2 December 2002 (succeeding
Ben Cayetano
and preceding
Duke Aiona
).
Biography
Mazie Keiko Hirono was born in Fukushima Prefecture, Japan on 3 November 1947, the daughter of a Japanese father and a Japanese-American mother. The family returned to Hawaii in the United States in 1955, and Hirono became a naturalized citizen in 1959. She graduated from the University of Hawaii at Manoa in 1970 and from Georgetown University Law Center in 1978, and she returned to Honolulu to practice law. From 1981 to 1994, she served in the Hawaii House of Representatives as a Democratic Party member. In 1994, she was elected Lieutenant Governor, the first Japanese immigrant Lieutenant Governor; her running mate, Ben Cayetano, was the first Filipino-American state governor. In 2002, she was defeated during her run for governor by Republican Party Mayor of Maui Lara Lingle 52%-47%, but she won election to the US House of Representatives in 2007. When Senator Daniel Akaka retired in 2013, Hirono ran for his US Senate seat, defeating Lingle; she was the first Asian-born immigrant to be elected to the Senate.
Ad blocker interference detected!
Wikia is a free-to-use site that makes money from advertising. We have a modified experience for viewers using ad blockers

Wikia is not accessible if you've made further modifications. Remove the custom ad blocker rule(s) and the page will load as expected.