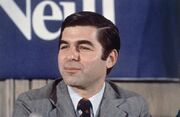 Michael Dukakis
(3 November 1933-) was Governor of
Massachusetts
(
D
) from 2 January 1975 to 4 January 1979, succeeding
Francis W. Sargent
and preceding
Edward J. King
, and again from 6 January 1983 to 3 January 1991, succeeding King and preceding
Bill Weld
. Dukakis was the Democratic nominee for president in 1988, but he lost to
Republican Party
nominee
George H.W. Bush
with just 111 electoral votes to Bush's 426.
Biography
Michael Stanley Dukakis was born in Brookline, Massachusetts, United States on 3 November 1933 to two Greek immigrant parents, with his mother being of Aromanian descent. He served in the US Army from 1955 to 1957 and graduated from Harvard School of Law in 1960, being elected to the State House of Representatives in 1962 as the representative from the 10th Norfolk district. He served that district until 1965, when he was elected to represent the new 13th district, serving until 1971. In 1974, he ran for Governor of Massachusetts, defeating the incumbent Republican governor Francis W. Sargent during a period of fiscal crisis. During his first term in office, he commuted the sentences of 21 first-degree murderers and 23 second-degree murderers, but the state's high sales and property tax rates led to him being refused renomination by his party in 1978. The party's new nominee Edward J. King won the election, and Dukakis spent the next four years making peace with the Massachusetts Democratic Party, the state police and public employee unions, and the Metropolitan District Commission, and he won the 1982 gubernatorial election. John Kerry served as Dukakis' Lieutenant-Governor, and he was rated the most effective governor by the National Governors' Association in 1986 for his reputation as a technocrat. Dukakis improved Boston's mass transit system, riding the subway to work every day as governor.
Presidential nominee, 1988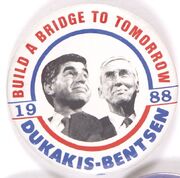 In 1988, Dukakis announced his candidacy for President of the
United States
as a Democrat, and he used Neil Diamond's song "America" as his campaign song, harkening back to his immigrant roots. He chose
Texas
Senator
Lloyd Bentsen
as his running mate, and he did well in his first debate against
Republican Party
nominee
George H.W. Bush
. However, he gained a reputation for being cold, and revelations of some of his psychiatric issues also hurt his campaign. Dukakis won only ten states (namely Massachusetts,
Rhode Island
,
New York
,
West Virginia
,
Wisconsin
,
Minnesota
,
Iowa
,
Washington
,
Oregon
, and
Hawaii
) and
Washington DC
, losing with just 111 electoral votes to Bush's 426.
In 1989, Dukakis announced that he would not run for a fourth term as governor, and the Republican Bill Weld defeated him. Dukakis joined the Board of Directors for Amtrak and became a political science professor at Northeastern University, and he continued to advocate for better rail transportation systems in his home state.
Ad blocker interference detected!
Wikia is a free-to-use site that makes money from advertising. We have a modified experience for viewers using ad blockers

Wikia is not accessible if you've made further modifications. Remove the custom ad blocker rule(s) and the page will load as expected.