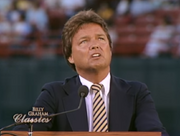 Michael "Mike" MacIntosh
(1944-) was an
American
Protestant
leader and a senior pastor at the Horizon Christian Fellowship in San Diego,
California
.
Biography
Michael MacIntosh was the son of an alcoholic father, and he was raised in a poor family. MacIntosh joined the Baptist church just to join their basketball team. He joined a Christian youth group in high school and became its president, but he later claimed that he was not born with him and did not walk with him. MacIntosh later moved to Irvine, Orange County and married a local woman named Sandy, and they were married for two years before they divorced. MacIntosh became a hippie during the 1960s, doing drugs, and he experimented with eastern religions. He was nearly killed by a group of cultists, believing that the side of his face had been shot off due to suffering from an LSD trance, and he spent seventeen months in psychotherapy, but he got involved with the Cavalry Chapel under Lonnie Frisbee and its elders. He promised to follow Jesus forever, and he was healed of his psychological damage. MacIntosh later became friends with his wife again, and they remarried three years after their divorce, with both of them being healed. MacIntosh became an evangelist, and he became an organizer of the Festival of Life, an international outreach program. In 1985, he spoke at one of Billy Graham's crusades in southern California, telling people doing drugs or going through divorces to accept God's love instead and stop both. MacIntosh went on to become a police department chaplain, and he was involved in post-9/11 relief efforts in New York City.
Ad blocker interference detected!
Wikia is a free-to-use site that makes money from advertising. We have a modified experience for viewers using ad blockers

Wikia is not accessible if you've made further modifications. Remove the custom ad blocker rule(s) and the page will load as expected.