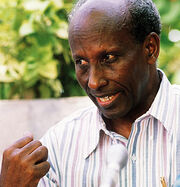 Mohamed Farrah Aidid
(15 December 1934-2 August 1996) was a
Somali
warlord and the leader of the
United Somali Congress
militia during the
Somali Civil War
. Aidid became the most powerful warlord in Somalia after the overthrow of
Siad Barre
's regime in 1991, and he served as the self-declared President of Somalia from 1995 to 1996, when he was killed by another warlord.
Biography
Mohamed Farrah Aidid was born on 15 December 1934 in Beledweyne, Somalia, and he was educated in Italy and the Soviet Union. Aidid served in the Italian colonial police during the 1950s before joining the Somali National Army and studying at the Frunze Military Academy in Moscow. In 1969, he was one of the anti-coup military officers who were detained by Siad Barre's Marxist government, only to be released in 1975. Aidid would fight against Ethiopia in the Ogaden region from 1977 to 1978 as a Somali general, and he also served as ambassador to India and the chief of Siad Barre's intelligence services. Aidid became the leader of the powerful United Somali Congress during the civil war against Siad's regime in 1991, and he fought to take control of Mogadishu; after doing so, he would form the Somali National Alliance to rule over the south of the country. Aidid fought against the United Nations peacekeepers deployed to Somalia, defeating them at the Battle of Mogadishu, but he lost the support of some of his powerful allies in 1995 when he declared himself President of Somalia. In 1996, he was wounded in a battle against Osman Ali Atto's forces, and he died of a heart attack after going through surgery to heal the wound.
Ad blocker interference detected!
Wikia is a free-to-use site that makes money from advertising. We have a modified experience for viewers using ad blockers

Wikia is not accessible if you've made further modifications. Remove the custom ad blocker rule(s) and the page will load as expected.