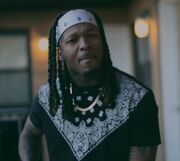 Walter Anthony Bradford
(3 March 1989-), best known professionally as 
Montana of 300
, was an
American
rapper from
Chicago
,
Illinois
who began his rap career in 2009. His music fit the gritty "drill" style, and he often rapped about crime in his home city.
Biography
Walter Anthony Bradford was born in Chicago, Illinois, United States on 3 March 1989, and he was raised in Peoria. He had seven brothers and three sisters, and he began rapping at the age of fifteen, using his rapping to talk about the struggles that him and his family faced; his father was an alcoholic, while his mother was a crack addict. In 2008, Bradford and a few friends formed the rap group "300", named for the movie about the 300 Spartans at the Battle of Thermopylae, and he took on the rap name "Montana of 300". Even after the group disbanded, Bradford retained his name of "Montana of 300", and he did his own remixes of popular rap songs, with "Chiraq" and "Panda" being his most famous remixes. In 2014, he released his first mixtape, and his lyricism and powerful messages were lauded by critics. On 27 May 2016, he released his debut studio album, Fire in the Church. On 17 May 2017, he was arrested, but he released his second album Don't Doubt the God on 20 May 2017.
Ad blocker interference detected!
Wikia is a free-to-use site that makes money from advertising. We have a modified experience for viewers using ad blockers

Wikia is not accessible if you've made further modifications. Remove the custom ad blocker rule(s) and the page will load as expected.