This article will discuss the German-centric political ideology of "Nazism". For the broader political ideology, see "National socialism".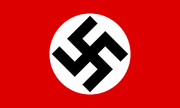 Nazism
is a form of
fascism
that incorporates
anti-Semitism
,
anti-communism
,
anti-capitalism
, and
ethnic nationalism
. Nazism originated with
Anton Drexler
and
Adolf Hitler
's
German
 National Socialist Workers' Party (NSDAP, or 
Nazi Party
) in the years following
World War I
, and it became a popular belief among Great War veterans of the
freikorps
and German nationalists. Nazism was opposed to both
capitalism
and
communism
, and it became popular due to its rejection of the two major forms of government. Nazism was a unique form of fascism, advocating racial superiority, and it made its way into the
Americas
as the
German-American Bund
in the
United States
and the
National Socialist Movement of Chile
. Following World War II, Nazism's legacy was nearly wiped out, but surviving Nazis fled to
Latin America
and kept the ideas alive, with some later returning to Germany.
Although the Nazi ideology was only officially present in Nazi Germany, far-right groups and people continue to support its broader national socialist beliefs, leading to continued anti-Semitism and more ethnic nationalism. Today, several motorcycle gangs, the Aryan Brotherhood gang, the Azov Battalion and Right Sector in Ukraine, and the Dayar Mongol party of Mongolia are all adherents to the core concepts of Nazism, albeit modified to be the nationalism of their own respective countries.
Tenets
From 1933 to 1945, Adolf Hitler led Nazi Germany as a totalitarian leader, uniting the country of Germany with promises of revenge against the Triple Entente for the defeat in World War I and with guarantees that the economy would recover under his rule. His (very controversial) tenets were:
Ad blocker interference detected!
Wikia is a free-to-use site that makes money from advertising. We have a modified experience for viewers using ad blockers

Wikia is not accessible if you've made further modifications. Remove the custom ad blocker rule(s) and the page will load as expected.