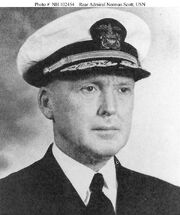 Norman Scott
(10 August 1889-13 November 1942) was a
US Navy
rear admiral during
World War II
. Scott was killed at the
Naval Battle of Guadalcanal
, one of two
American
admirals killed during the war.
Biography
Norman Scott was born in Indianapolis, Indiana on 10 August 1889, and he graduated from the Naval Academy in 1911, serving in the US Navy during World War I. From 1924 to 1930, he served as an instructor at the naval academy, and he served in the naval mission to Brazil from 1937 to 1939. In early 1942, Scott was assigned to the Office of the Chief of Naval Operations, and he became a rear admiral in May, commanding a fire support group during the first stages of the Battle of Guadalcanal. In October 1942, he crossed the Japanese "T" during the Battle of Cape Esperance, allowing for the Americans to defeat the Japanese fleet. During the Naval Battle of Guadalcanal, Scott was killed when the bridge of USS Atlanta (CL-51) was smashed by friendly fire from USS San Francisco (CA-38).
Ad blocker interference detected!
Wikia is a free-to-use site that makes money from advertising. We have a modified experience for viewers using ad blockers

Wikia is not accessible if you've made further modifications. Remove the custom ad blocker rule(s) and the page will load as expected.