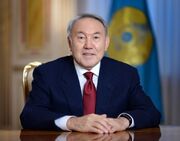 Nursultan Abishulliy Nazarbayev
(6 July 1940-) was First Secretary of the Central Committee of the
Communist Party of Kazakhstan
from 22 June 1989 to 14 December 1991, succeeding
Gennady Kolbin
, and President of
Kazakhstan
from 16 December 1991. Nazarbayev presided over an
authoritarian
regime that was effectively a single-party state ruled by his
Nur Otan
party; he won 98% of the vote in April 2010, and his party was always in power.
Biography
Soviet politics
Nursultan Abishevich Nazarbayev was born in Chemolgan, Kazakh SSR, Soviet Union on 6 July 1940 to a family of poor Kazakh laborers. He joined the Communist Party of the Soviet Union in 1962 while working at a steel mill in Temirtau, and he attended the Karagandy Polytechnic Institute. In 1972, he was appointed secretary of the communist committee of the Karaganda Metallugrical Kombinat, and he became the second secretary of the Karaganda Regional Party Committee in 1976. In 1984, he became Prime Minister of Kazakhstan under First Secretary Dinmukhamed Kunayev, but he criticized Kunayev's government for not reforming the Academy of Sciences. Kunayev attempted to fire Nazarbayev, but Nazarbayev had stronger support, and Kunayev was ousted in 1986.
Communist leader and President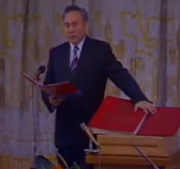 Nazarbayev was appointed First Secretary of the
Communist Party of Kazakhstan
 on 22 June 1989 to succeed
Gennady Kolbin
, and he became the second Kazakh to hold that post (after Kunayev). On 24 April 1990, he was elected President of Kazakhstan by the Supreme Soviet, and he supported
Boris Yeltsin
against the
August Coup
. After the
Dissolution of the Soviet Union
, Nazarbayev focused on maintaining close economic ties with
Russia
, and he passed a new constitution in June 1992 that gave the executive branch wide powers.
Nazarbayev was repeatedly re-elected after modifying the constitution, and he moved the capital from Almaty to Astana on 10 December 1997. Nazarbayev became known for his favoritism, corruption, and autocracy, and he stole $8.5 billion from his own government. He also inherited the world's fourth-largest nuclear weapons stockpile from the USSR, but he closed the nuclear test site at Semipalatinsk and dismantled the country's former Soviet nuclear weapons with United States assistance. However, he presided over an authoritarian regime that ignored human rights, and no election in the country met international standards. In 2010, he announced that he was transitioning the country to a multi-party system, and he announced reforms that would delegate powers to the parliament in January 2017.