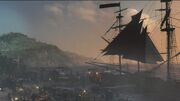 Ocracoke
is an unincorporated town and island in Hyde County,
North Carolina
,
United States
. The area was discovered by
Italian
navigator
Giovanni da Verrazzano
in 1524, but
European
settlement in the area would not occur until North Carolina became a colony of
England
in 1663. There was no settlement on Ocracoke itself until 1750, allowing for the island to become a
pirate
haven; in October 1718, the pirate
Blackbeard
was killed off Ocracoke Inlet by the
Royal Navy
after celebrating his retirement from piracy on the island. The island later became a home to the shipping business, and it was briefly home to the
Confederate States Army
's Fort Ocracoke, which was razed by
Union
forces on 17 September 1861 at the start of the
American Civil War
. In 2010, the town had a small population of 948 people.
Ad blocker interference detected!
Wikia is a free-to-use site that makes money from advertising. We have a modified experience for viewers using ad blockers

Wikia is not accessible if you've made further modifications. Remove the custom ad blocker rule(s) and the page will load as expected.