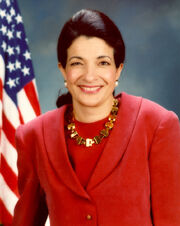 Olympia Jean Snowe
(21 February 1947-) was a
US
Senator from
Maine
(
R
) from 3 January 1995 to 3 January 2013, succeeding
George Mitchell
and preceding
Angus King
. Snowe previously served as a member of the
US House of Representatives
from Maine's 2nd district from 3 January 1979 to 3 January 1995, succeeding
Bill Cohen
and preceding
John Baldacci
. Snowe was the youngest Republican woman ever elected to the House, the first
Greek
-
American
congresswoman, and the first woman to serve in both houses of a state legislature and both houses of
US Congress
. Snowe and fellow Maine Republican senator
Susan Collins
were known for being
Rockefeller Republicans
, supporting
social liberalism
and
fiscal conservatism
.
Biography
Olympia Jean Bouchles was born in Augusta, Maine on 21 February 1947, the son of a Greek immigrant father and a Greek-American mother. She was orphaned by the age of nine, and she was raised by her aunt and uncle; her uncle died within a few years. Bouchles married businessman Peter T. Snowe after graduating from the University of Maine, but her husband died in a car crash in 1973. She ran for her husband's seat in the Maine House of Representatives as a Rockefeller Republican, and she was elected to the US House of Representatives in 1979, representing parts of northern Maine such as Auburn and Bangor. In 1989, she married Maine governor John R. McKernan Jr., and she was First Lady of Maine from 1989 to 1995. In 1995, she was elected to the US Senate, and Snowe and fellow Rockefeller Republican Maine Senator Susan Collins voted to acquit Bill Clinton during his impeachment process. In 2006, she was ranked as one of America's 10 best senators, as she was always willing to be bipartisan. Snowe supported the Kosovo War, the Afghanistan War, and the Iraq War, supported abortion rights and gay rights (although she initially supported "Don't Ask, Don't Tell"), opposed free trade, supported cutting taxes, supported gun control, supported reducing the price of prescription drugs and insurance costs of small businesses, supported stem cell research, and supported healthcare reform. In 2012, she decided to retire from the Senate due to hyper-partisanship leading to a dysfunctional US Congress, and Angus King won her Senate seat.
Ad blocker interference detected!
Wikia is a free-to-use site that makes money from advertising. We have a modified experience for viewers using ad blockers

Wikia is not accessible if you've made further modifications. Remove the custom ad blocker rule(s) and the page will load as expected.