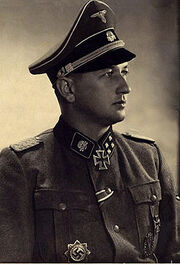 Otto Baum
(15 November 1911-18 June 1998) was an
SS
-
Oberfuhrer
during
World War II
. He notably commanded the
2nd SS Panzer Division Das Reich
and the
16th SS Panzergrenadier Division Reichsführer-SS
during the war.
Biography
Otto Baum was born in Hechingen-Stetten, German Empire in 1911, the son of a merchant. He studied agriculture at the University of Hohenheim from 1930 to 1932, and he joined the SS in 1934 as its 237,056th member and the Nazi Party as its 4,197,040th member. He became a Waffen-SS battalion commander during Operation Barbarossa in 1941, and he was promoted to regimental commander in 1943 after being severely wounded. In July 1944, he was given command of the 2nd SS Panzer Division Das Reich, commanding it during the Falaise Pocket campaign in France. He left command on 23 October 1944, with Heinz Lammerding replacing him as divisional commander. Baum commanded the 16th SS Panzergrenadier Division Reichsführer-SS until the end of World War II in May 1945, and he died in 1998 in Hechingen-Stetten at the age of 86.
Ad blocker interference detected!
Wikia is a free-to-use site that makes money from advertising. We have a modified experience for viewers using ad blockers

Wikia is not accessible if you've made further modifications. Remove the custom ad blocker rule(s) and the page will load as expected.