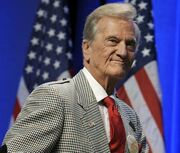 Charles Eugene "Pat" Boone
(1 June 1934-) was an
American
pop singer, television personality, and
conservative
political commentator. Boone was the second-biggest charting artist of the late 1950s after
Elvis Presley
, but he was known for controversially covering several
African-American
artists' songs with the goal of appealing to white audiences and for making outrageous homophobic and Islamophobic remarks as a
Republican
political commentator.
Biography
Charles Eugene Boone was born in Jacksonville, Florida on 1 June 1934, and he was raised in Nashville, Tennessee. In 1954, he began recording for Republic Records, and his cover of Fats Domino's "Ain't That a Shame" in 1955 became a hit. Boone became known for his "covers" of African-American artists' songs to cater to a white audience, an act seen as "stealing" by many African-American artists of the time, as it occurred during an era of high racial tensions. Boone was a conservative Christian, and he refused to appear in a movie with sex symbol Marilyn Monroe or to kiss actress Shirley Jones in one of his first movies. During the 1960s and 1970s, Boone and his family toured as gospel singers, and he also became politically active. In 1966 and 1970, he campaigned for Ronald Reagan to become Governor of California, and he supported the Vietnam War. Boone also questioned the patriotism of Democratic Party supporters who opposed the Iraq War, claimed that Steve Beshear would turn Kentucky into "another San Francisco" and would "support every homosexual cause", claimed that gays were "sexual jihadists", compared liberalism to cancer, and made outrageous claims that Barack Obama was born in Kenya, read the Quran in fluent Arabic as a boy, and never celebrated Christian holidays in the White House.
Ad blocker interference detected!
Wikia is a free-to-use site that makes money from advertising. We have a modified experience for viewers using ad blockers

Wikia is not accessible if you've made further modifications. Remove the custom ad blocker rule(s) and the page will load as expected.