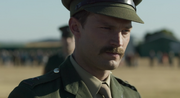 Patrick "Pat" Quinlan
(1919-1997) was a Lieutenant-Colonel in the
Irish Army
and the commander of the
ONUC
peacekeepers at the
Siege of Jadotville
in 1961.
Biography
Patrick Quinlan was born in Waterville, County Kerry, Ireland in 1919, and he became a career Irish Army officer. Quinlan read the works of German World War II general Erwin Rommel and the Roman general and politician Julius Caesar, and he was well-educated in military tactics, despite never having fought in a war. In 1961, he finally had the chance to lead men into combat when his company of Irish troops were sent to join the ONUC peacekeeping mission in the Democratic Republic of the Congo during the Congo Crisis. Quinlan found that the locals did not welcome the presence of UN peacekeepers in their village, having been warned about this by a local Belgian woman, and having experienced the hostility of some locals when he conversed with mercenary leader Roger Faulques at a bar. Quinlan found his base besieged by Faulques and his mercenaries just a day later, with his 158-strong company facing over 3,000 enemy troops. Quinlan had his men dig trenches, conserve water, hold their ground, move the ammo out of the storage depot during an enemy bombardment, and even reuse bullet casings after the Irish soldiers ran out of ammunition. Quinlan was eventually confronted by Faulques, and he agreed to surrender due to the lack of ammunition and supplies that his men faced. The Irish soldiers were imprisoned for a month before being allowed to return home. Quinlan was never decorated for his services, and he never spoke about Jadotville until his 1997 death.
Ad blocker interference detected!
Wikia is a free-to-use site that makes money from advertising. We have a modified experience for viewers using ad blockers

Wikia is not accessible if you've made further modifications. Remove the custom ad blocker rule(s) and the page will load as expected.