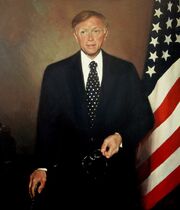 Paul Coverdell
(20 January 1939-18 July 2000) was
US
Senator from
Georgia
(
R
) from 3 January 1993 to 18 July 2000, succeeding
Wyche Fowler
and preceding
Zell Miller
.
Biography
Paul Coverdell was born in Des Moines, Iowa on 20 January 1939, and he served in the US Army from 1962 to 1964 as a captain after graduating from the University of Missouri with a journalism degree. After leaving the army, he became an insurance company owner, owning Coverdell & Co., Inc. alongside his father. In 1970, he was elected to the Georgia State Senate as a representative from Fulton County, running as a Republican Party member. He took the future governor Roy Barnes under his wing, and he supported pension reform, DUI legislation, and raising the legal drinking age. In 1985, he was elected Chairman of the Georgia Republican Party, and he served as Director of the Peace Corps from 2 May 1989 to 4 September 1991, succeeding Loret Miller Ruppe and preceding Elaine Chao. In 1993, Coverdell was elected to the US Senate to succeed Wyche Fowler, and he voted against tax increases, for the preservation of national parks, and for humanitarian causes. In 1998, he became the first Georgia Republican to be re-elected to the Senate, but he died of a cerebral hemorrhage in 2000, with Zell Miller succeeding him.
Ad blocker interference detected!
Wikia is a free-to-use site that makes money from advertising. We have a modified experience for viewers using ad blockers

Wikia is not accessible if you've made further modifications. Remove the custom ad blocker rule(s) and the page will load as expected.