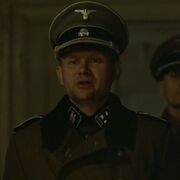 Peter Hogl
(19 August 1897-2 May 1945) was an
SS
Obersturmbannfuhrer
during
World War II
. He was the man sent to arrest and execute
Hermann Fegelein
during the
Battle of Berlin
in April 1945, and he was killed in battle with the
Red Army
.
Biography
Peter Hogl was born in Dingolfing, Bavaria, German Empire on 19 August 1897, and he worked as a miller in Landshut before joining the Imperial German Army and fighting in World War I. He left the army in 1919 and served in the police until 1933, when he became the 249,998th member of the SS. He became Director of RSD Department 1, making him the leader of Adolf Hitler's bodyguards. Hogl was therefore with Hitler until the end, and he captured Hermann Fegelein in his Berlin apartment before he could flee to Sweden or Switzerland. Hogl then took an MP40 submachine gun and personally gunned Fegelein down, punishing him for his treason. After Hitler's death on 30 April 1945, Hogl, Ewald Lindloff, Hans Reisser, and Hans Linge cremated his body, and he joined Johann Rattenhuber in trying to escape the city on 2 May 1945. However, he was wounded in the head while crossing the Weidendammer Bridge, and he died of his wounds at the age of 47.
Ad blocker interference detected!
Wikia is a free-to-use site that makes money from advertising. We have a modified experience for viewers using ad blockers

Wikia is not accessible if you've made further modifications. Remove the custom ad blocker rule(s) and the page will load as expected.