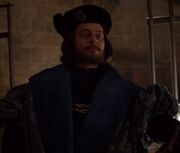 Philip I "the Handsome" of Castile
(22 July 1478-25 September 1506) was King of
Castile
from 26 November 1504 to 25 September 1506, succeeding
Fernando II of Aragon
and preceding
Joanna the Mad
. Philip was the son of Emperor
Maximilian I of Germany
and Duchess
Mary of Burgundy
, and he inherited the
Duchy of Burgundy
's lands from his mother, creating the
Habsburg Netherlands
; when he married into Spanish royalty, he transferred his lands with him, leading to the creation of the
Spanish Netherlands
. Philip's reign as king was otherwise unimportant, as he died after only a few months of ruling unopposed.
Biography
Philip the Handsome was born in Bruges, Flanders, Burgundian Netherlands on 22 July 1478, the son of Emperor Maximilian I of Germany and Duchess Mary of Burgundy. Philip belonged to the House of Habsburg, and he succeeded his mother as Lord of the Netherlands and Duke of Burgundy upon her death in 1482, becoming the first ruler of the Habsburg Netherlands. His early reign saw the Flemish people revolt against his father's rule, but the rebellions ended in 1494 when Philip came of age to become the new prince. Philip was assisted by a council of Burgundian notables, and he was later married to Joanna of Castile, the daughter of King Ferdinand II of Aragon and Isabella of Castile. The alliance led to the House of Habsburg and House of Trastamara forming a powerful military alliance that could check the power of France, and it would also lead to Philip becoming the jure uxoris King of Castile when Queen Isabella died in 1504. Philip and his wife were forced to fight against Ferdinand II when he sought to become "regent", and Philip and Joanna landed in Coruna with German mercenaries in 1506, leading to mediation between Ferdinand and Philip. Under the 27 June 1506 Treaty of Villafafila, Philip was confirmed as the new King of Castile, but he died of typhoid fever on 15 September 1506. His wife believed that he had been poisoned, a widely suspected cause of death. While Philip's reign was short, the Habsburg inheritance of Burgundian territories would lead to several conflicts with France and, eventually, the independence of the Netherlands.
Ad blocker interference detected!
Wikia is a free-to-use site that makes money from advertising. We have a modified experience for viewers using ad blockers

Wikia is not accessible if you've made further modifications. Remove the custom ad blocker rule(s) and the page will load as expected.