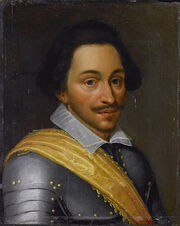 Philip of Nassau
(1 December 1566-3 September 1595) was a
Count of Nassau
and a general of the
United Provinces
during the
Dutch Revolt
.
Biography
Philip of Nassau was born in Dillenburg, Hesse, Holy Roman Empire on 1 December 1566, the son of John VI of Dillenburg and Countess Elisabeth of Leuchtenberg and the cousin of Maurice of Nassau. In 1585, he became a colonel in the army of the United Provinces during the Dutch Revolt, and he served as Governor of Gorinchem from 1586 to 1587 and Governor of Nijmegen in 1597. From Nijmegen, he engaged the Spanish in Luxemburg, and he attempted to overtake a Spanish foraging convoy along the Lippe River in Germany in 1595. However, Philip was mortally wounded in a counter-ambush, dying that same day.
Ad blocker interference detected!
Wikia is a free-to-use site that makes money from advertising. We have a modified experience for viewers using ad blockers

Wikia is not accessible if you've made further modifications. Remove the custom ad blocker rule(s) and the page will load as expected.