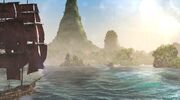 Príncipe
is the northern major island of the island nation of
São Tomé and Príncipe
in
Africa
. The island was discovered by
Portugal
on 17 January 1471, Saint Anthony's Day, and the Portuguese commemorated the day of its discovery by naming its capital "
Santo Antonio
". The north and center of the island was made into room for plantations, and the
United Provinces
seized the valuable island in 1598, 1600, and from 1641 to 1644 during the
Dutch Revolt
. In 1706 and 1709,
France
invaded the island during the
War of the Spanish Succession
, and the fort at Santo Antonio was destroyed by the
pirate
Bartholomew Roberts
in 1719 during the
Battle of Principe
. After São Tomé and Príncipe gained independence in 1975, the plantations were replaced by forests, and the island had a population of around 5,000 people in 2017.
Gallery
Ad blocker interference detected!
Wikia is a free-to-use site that makes money from advertising. We have a modified experience for viewers using ad blockers

Wikia is not accessible if you've made further modifications. Remove the custom ad blocker rule(s) and the page will load as expected.