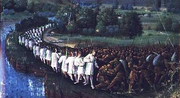 Rainaldo 
(fl. 1096) was an Italian nobleman who took part in the
People's Crusade
of 1096.
Biography
Rainaldo was a part of the massive army rallied by Peter the Hermit on his tour through Europe, fighting for Christ's creed with many international troops, leading a force of German and Italian knights into capturing Xerigordon Castle, near Nicaea in Asia Minor. Soon, The Turks besiged the castle and trapped the garrison, with Rainaldo avoiding death, but being captured and forced to embrace Islam.
Ad blocker interference detected!
Wikia is a free-to-use site that makes money from advertising. We have a modified experience for viewers using ad blockers

Wikia is not accessible if you've made further modifications. Remove the custom ad blocker rule(s) and the page will load as expected.