Red Bennett
was a
Teamsters
union organizer during the 20th century. He worked as the business director for the Teamsters from 1935 to 1958, when his rival
Jimmy Hoffa
fired him and the remainder of the Teamster leadership, despite Bennett's support for Hoffa's candidacy for President of the Teamsters.
Biography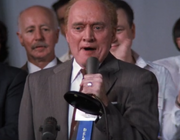 Red Bennett was a member of the
International Brotherhood of Teamsters
Local 299 in
Detroit
,
Michigan
, and he was involved with labor agitation during the 1930s. In 1935, he spoke at a rally of teamsters, using a megaphone to speak to large crowds who were protesting during the
Great Depression
. Bennett was chosen to become the new business director of the IBT after the Teamster leadership gave him sole credit for the successful strike against Kreger's supermarket in South Detroit, angering
Jimmy Hoffa
. When Hoffa became President of the IBT in 1958, Hoffa fired Bennett and all of the other major staff members of the Teamsters, replacing them with new faces; Bennett had previously supported Hoffa's IBT presidential bid. Hoffa reasoned that eliminating everyone in the entire staff would ensure that nobody distrusted him, and that the remainder would be grateful.
Ad blocker interference detected!
Wikia is a free-to-use site that makes money from advertising. We have a modified experience for viewers using ad blockers

Wikia is not accessible if you've made further modifications. Remove the custom ad blocker rule(s) and the page will load as expected.