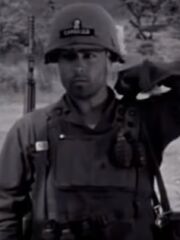 Ricardo Carrasco
(1934-6 July 1953) was a
US Army
soldier during the
Korean War
. Carrasco was known for playing a fictionalized version of himself in the 1953 film 
Cease Fire
, in which he was killed, before dying in combat just twelve hours later.
Biography
Ricardo Carrasco was born in El Paso, Texas in 1934 to a family of Mexican descent, and he joined the military after his May 1952 high school graduation. He served in the 7th Division, US 32nd Infantry Regiment, Company A in South Korea, and he fought at Old Baldy and Pork Chop Hill, growing to despise the Korean War. He liked the people and the soldiers in Korea, but he was always restless about returning home to his "fellahs".
Two deaths
In June 1953, First Motion Picture Unit director Owen Crump decided to make a war documentary film called "Cease Fire" about the fighting in the last few weeks of the Korean War, while ceasefire talks were going on at Panmunjom. Carrasco and several other real US Army soldiers were chosen to take part in the fictitious "Easy Patrol", which took part in real fighting on the front lines. The plot had them set up an observation post of "Red Top Hill", a hill loosely based on "Pork Chop Hill", where Carrasco was serving at the time. Crump had big plans for Carrasco, planning to make him a film star for Paramount. However, Carrasco politely refused, as he felt that the leader of his squad on Pork Chop Hill was a coward and would get his men killed, and Carrasco said that he could not live with himself if he did not return to his men. He returned to the front lines that night, and he was killed by a Chinese mortar round at 11:25 PM on the first night of the Battle of Pork Chop Hill. The movie never received much notice or attention and faded into obscurity, and Carrasco was the only one of the actors/soldiers to lose his life during the war.
Ad blocker interference detected!
Wikia is a free-to-use site that makes money from advertising. We have a modified experience for viewers using ad blockers

Wikia is not accessible if you've made further modifications. Remove the custom ad blocker rule(s) and the page will load as expected.