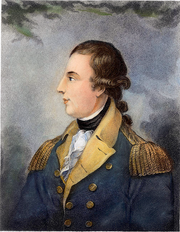 Richard Montgomery 
(2 December 1738-31 December 1775) was a Brigadier-General in the
Continental Army
during the
American Revolutionary War
. Born in
Ireland
, Montgomery served in the
British Army
during the
French and Indian War
before he was commissioned into the Continentals during the Revolution. Montgomery was killed in action at the
battle of Quebec
on 31 December 1775, derailing the whole
Canadian
campaign of the
Patriots
.
Biography
Montgomery was born in Swords, County Dublin, Ireland, Great Britain to a wealthy family of Ulster Scots. Montgomery joined the British Army in 1756, and was transferred to the Thirteen Colonies, fighting in the French and Indian War. Afterwards, he returned to Britain for health reasons in 1761, and he joined the Templar Order secret society. In 1773, Montgomery returned to the Americas, where he settled down. Montgomery was commissioned as a Brigadier-General after becoming a member of the Continental Congress, as he was a man with military experience. Montgomery was given command of an army that would invade British Canada in the winter of 1775-1776, and his army captured Fort St. Jean (Montreal) from the British, capturing John Andre in the process. Montgomery would march on the Canadian capital of Quebec as another army also moved on the city, and on 31 December 1775 the American assault on Quebec began.
Death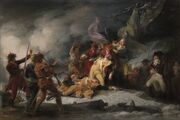 Montgomery led his troops into battle, equipped with captured British cannon and winter clothing, and assisted in the attack on the British, Iroquois, and Canadien forces at the
battle of Quebec
alongside
Benedict Arnold
and his army. Montgomery led a charge against the British artillery, and he was shot in the head while most of his men were killed by grapeshot. Montgomery's death was a blow to the
patriots
, who were forced to retreat from Canada.
Ad blocker interference detected!
Wikia is a free-to-use site that makes money from advertising. We have a modified experience for viewers using ad blockers

Wikia is not accessible if you've made further modifications. Remove the custom ad blocker rule(s) and the page will load as expected.