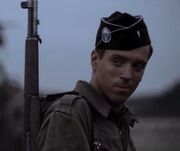 Richard "Dick" Winters
(21 January 1918-2 January 2011) was a
US Army
major who commanded
Easy Company
, 2nd Battalion,
US 506th Infantry Regiment
during
World War II
.
Biography
Richard Winters was born in New Holland, Pennsylvania on 21 January 1918, and he attended Franklin and Marshall College, having the highest academic standing in the school's business college. Winters enlisted in the US Army on 25 August 1941 and entered Officer Candidate School in April 1942, meeting his friend Lewis Nixon. On 2 July 1942, he was commissioned a Second Lieutenant, and he joined the US 506th Parachute Infantry Regiment as an airborne infantry officer. First Lieutenant Herbert Sobel promoted Winters to be his executive officer after Robert Sink took notice of Winters' command skills while leading the 2nd Platoon, and Winters was stationed in England with the rest of East Company after leaving Camp Toccoa and North Carolina. On 5 June 1944, Easy Company took part in the airborne invasion of Normandy, and Winters became acting commander of the company after its commander was killed in a plane explosion. Winters led his squad during the Battle of Sainte-Mere-Eglise, the Brecourt Manor Assault, and the Battle of Carentan, and he was promoted to captain on 1 July 1944. In September 1944, Easy Company took part in Operation Market Garden, and he took part in the assault on Foy during the Battle of the Bulge and the Siege of Bastogne later that year. On 9 October, he became 2nd Battalion's executive officer, and he was promoted to Major on 8 March 1945 and given acting command of the battalion. The battalion took part in defensive duties along the Rhine before moving into Bavaria, and the battalion ended the war at the Berchtesgaden alpine retreat in the Alps. Winters served on occupation duty in Germany and Austria, and he was discharged on 22 January 1946, entering the reserves. He became a regimental planning and training officer during the Korean War, but he did not fight in the conflict. He became a supervisor at a plastics adhesive business in New Brunswick, New Jersey, and he later came to own a chocolate byproducts company in Pennsylvania. He died in Hershey, Pennsylvania on 2 January 2011 at the age of 92.
Ad blocker interference detected!
Wikia is a free-to-use site that makes money from advertising. We have a modified experience for viewers using ad blockers

Wikia is not accessible if you've made further modifications. Remove the custom ad blocker rule(s) and the page will load as expected.