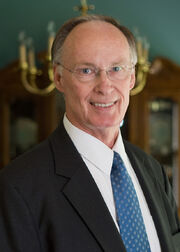 Robert Julian Bentley
(3 February 1943-) was Governor of
Alabama
(
R
) from 17 January 2011 to 10 April 2017, succeeding
Bob Riley
and preceding
Kay Ivey
.
Biography
Robert Julian Bentley was born in Columbiana, Alabama on 3 February 1943, and he joined the US Air Force as a medic after graduating from the University of Alabama School of Medicine. He served on the Pope Air Force Base from 1969 to 1975, and he left the military with the rank of captain. Bentley opened several dermatology clinics throughout the American South, and he was elected to the Alabama House of Representatives in 2002 as a Republican Party member, serving from 2003 to 2010. In 2010, he won the gubernatorial election with 58% of the vote, and he won re-election with 63.6% of the vote in 2014. In April 2016, an impeachment process began against Governor Bentley over rumors that he had an extramarital affair with a female policy adviser, and Bentley was found guilty of violating both ethics and campaign finance laws on 5 April 2017, resulting in his resignation five days later. Lieutenant-Governor Kay Ivey succeeded him.
Ad blocker interference detected!
Wikia is a free-to-use site that makes money from advertising. We have a modified experience for viewers using ad blockers

Wikia is not accessible if you've made further modifications. Remove the custom ad blocker rule(s) and the page will load as expected.