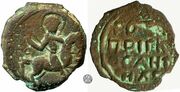 Roger of Salerno 
(died 1119) was a Frankish crusader who was the regent of Antioch after the death of
Tancred of Lecce
, and was the leader of the crusaders at the
Battle of Ager Sanguinis
, where he was slain.
Biography
Roger of Salerno was the son of Richard of Salerno and Altrude of Hauteville, and was thus a member of the House of Hauteville, the cousin of Tancred of Lecce and thus the nephew of Bohemund I of Edessa, and was related to many other crusaders. Roger, a Sicilian, took part in the First Crusade and became the Regent of Antioch from 1112 onwards, following Tancred's death. His father became the Prince of Antioch following Bohemund's departure for the west in 1105, and Roger became a talented general, winning a crushing victory at the Battle of Tell Danith over Bursuq of Hamadan, commander of an army sent by the Sultan of Baghdad to resecure the vulnerable south-eastern frontier of Outremer, in 1115. Lasting security recieved attention with Prince Roger's capture of the castles at Saone, Balatonos, and Marqab, but his luck ran out in 1119, when Il-Ghazi of Mardin annihilated the Antiochene army, and he was slain. 
Ad blocker interference detected!
Wikia is a free-to-use site that makes money from advertising. We have a modified experience for viewers using ad blockers

Wikia is not accessible if you've made further modifications. Remove the custom ad blocker rule(s) and the page will load as expected.