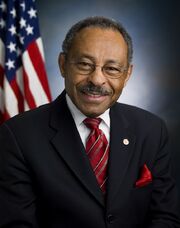 Roland Wallace Burris
(3 August 1937-) was a
US
Senator from
Illinois
(
D
) from 12 January 2009 to 29 November 2010, succeeding
Barack Obama
and preceding
Mark Kirk
.
Biography
Roland Wallace Burris was born in Centralia, Illinois on 3 August 1937, and he received a bachelor's degree in political science from Southern Illinois University in 1959, also studying in Hamburg, West Germany as an exchange student. He earned his juris doctor from the Howard University School of Law in 1963, and he worked at Continental Illinois National Bank and Trust Company from 1964 to 1973, when he was appointed Director of Central Management services by Governor Dan Walker. Burris served a four-year term as director, and he served as Vice-Chairman of the Democratic National Committee in 1985.
From 1979 to 1991, Burris served as Comptroller of Illinois, and he served as Attorney General of Illinois from 1991 to 1995. Burris worked as a private lawyer for much of the 1990s, and he founded Burris & Lebed Consulting, LLC in April 2002, dealing with public relations, lobbying, political strategies, and corporate strategies.
In 2009, Governor Rod Blagojevich appointed Burris to fill Barack Obama's vacant seat in the US Senate, and there was controversy surrounding this move; Blagojevich was being investigated for corruption at the same time, and there were allegations that Blagojevich had been paid for appointing Burris. Burris was the only black member of the US Senate when he was confirmed on 12 January 2009, and he intended to run for re-election in 2010, but it would be very difficult for him to be successful; Republican Party politician Mark Kirk ultimately won the senate seat.