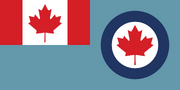 The 
Royal Canadian Air Force
(
RCAF
) is the air force of
Canada
, formed on 1 April 1924. The original 
Canadian Air Force
existed from 1920 to 1924, succeeding the short-lived
World War I
-era air force, which had two squadrons. The RCAF fought alongside the
British
Royal Air Force
during
World War II
, first fighting in the
Battle of Britain
in 1940. The RCAF would also take part in the
Battle of the Atlantic
, strategic bombing in
Europe
, and the Western Front during the war, and the RCAF also took part in the
Korean War
, the
Gulf War
,
Operation Deliberate Force
, the
Kosovo War
, the
Afghanistan War
,
Operation Freedom Falcon
, and
Operation Impact
. In 2008, the RCAF had a strength of 14,500 regulars, 2,600 reservists, and 2,500 civilian employees.
Ad blocker interference detected!
Wikia is a free-to-use site that makes money from advertising. We have a modified experience for viewers using ad blockers

Wikia is not accessible if you've made further modifications. Remove the custom ad blocker rule(s) and the page will load as expected.