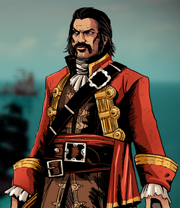 Samuel "Black Sam" Bellamy
(23 February 1689-26 April 1717) was an
English
pirate
who captained the 
Whydah Gally
during the
Golden Age of Piracy
. Although his piracy career lasted for just one year, from 1716 to 1717, Bellamy captured 53 ships and became the wealthiest pirate in recorded history.
Biography
Samuel Bellamy was born in Hittisleigh, Devon, England on 23 February 1689, the youngest of six children. He joined the Royal Navy at a young age and fought in several battles, and he travelled to Cape Cod, Massachusetts in 1715 to seek some of his relatives there. In 1716, he left Cape Cod for Spanish Florida to plunder the treasure left behind by the sunken Spanish treasure fleet, and Bellamy later gained control of Benjamin Hornigold's ship Marianne after its crew, upset with Hornigold's refusal to attack British ships, mutinied and elected Bellamy as captain. Bellamy's crew sailed alongside Olivier Levasseur before Levasseur departed for South America in 1717, and Bellamy captured the 18-gun English slave ship Whyday Gally between Hispaniola and Cuba in the spring of 1717. When the captain of the Whydah, Laurens Prins, agreed to surrender without resistance, Bellamy rewarded him by trading him his captured ship Sultana for the captaincy of the Whydah. Bellamy would pirate off the coast of North and South Carolina and New England in the following months, and his crew saw him as a "Robin Hood of the Sea" due to his democratic views and his charitable nature. He usually captured ships without harming them, and he believed that he had just as much a right to wage war as a man who commanded 100,000 men on the battlefield, calling himself a "free prince". On 26 April 1717, Bellamy was killed when the Whydah was wrecked in a storm off Cape Cod, Massachusetts, taking 143 of the ship's 145 crew with her.
Ad blocker interference detected!
Wikia is a free-to-use site that makes money from advertising. We have a modified experience for viewers using ad blockers

Wikia is not accessible if you've made further modifications. Remove the custom ad blocker rule(s) and the page will load as expected.