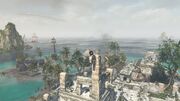 The 
Santanillas
, also known as the 
Swan Islands
, 
Islas Santanilla
, or the 
Islas del Cisne
, is a chain of three islands in the northwestern
Caribbean Sea
, located 95 miles off the coast of
Honduras
. The islands were once home to a
United States
animal quarantine section for the importation of beef from
South America
, and the
US Navy
and other government agencies had personnel on the islands until the US dropped its claim to the guano-rich islands in 1972. Control of the islands was returned to Honduras, and the islands had a population of 10 people in 2014.
Ad blocker interference detected!
Wikia is a free-to-use site that makes money from advertising. We have a modified experience for viewers using ad blockers

Wikia is not accessible if you've made further modifications. Remove the custom ad blocker rule(s) and the page will load as expected.