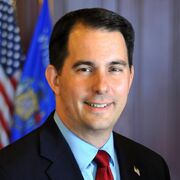 Scott Kevin Walker
(2 November 1967-) was Governor of
Wisconsin
(
R
) from 3 January 2011, succeeding
Jim Doyle
. Walker was known for being the first
American
governor to defeat an attempted recall, having faced a recall election in 2012 in response to widespread protests concerning his limitations on collective bargaining rights. On 13 July 2015, he announced his candidacy for the 
Republican
 nomination for President of the
United States
, but he suspended his campaign on 21 September 2015 due to poor poll results.
Biography
Scott Kevin Walker was born in Colorado Springs,
Colorado
on 2 November 1967, and he family moved to Plainfield,
Iowa
in 1970 and to Delavan,
Wisconsin
in 1977. He attended Marquette University, and he left Marquette before graduating to take a full-time job with the American Red Cross. In 1992, he was elected to the Wisconsin State Assembly from the 14th district (located in western Milwaukee County), serving from 30 June 1993 to 30 April 2002; he succeeded
Peggy Rosenzweig
and preceded
Leah Vukmir
.
In 2002, Walker was elected a county executive in a special election following F. Thomas Ament's resignation, and he won election to a full term in 2004 and re-election in 2008. In 2006, he attempted to run for Governor of Wisconsin as a Republican Party member, but he ran again in 2010, defeating Democratic Party challenger Tom Barrett in the general election to become Governor. In 2011, he introduced a budget plan that limited the collective bargaining rights of most Wisconsin public employees, leading to protests at the Wisconsin State Capitol and an effort to recall Walker. In 2012, he again defeated Barrett in the recall election, becoming the first American governor to defeat a recall. In 2014, he again won election as Governor of Wisconsin, and he briefly sought the Republican nomination for president in 2016.
Ad blocker interference detected!
Wikia is a free-to-use site that makes money from advertising. We have a modified experience for viewers using ad blockers

Wikia is not accessible if you've made further modifications. Remove the custom ad blocker rule(s) and the page will load as expected.