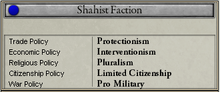 The Shahist Faction was ruling political clique in Qajar Dynasty Persia during the 19th century, particularly during the reign of Naser al-Din Shah Qajar, who as the monarch was its leader. While its members were in favor of adopting some reforms along the style of the European great powers, they were more conservative overall. The Shahist Faction was notable for modernizing and helping expand the Qajar military, pacifying the more rebellious tribal leaders, conquering the tribes of Makran, and building Iran's first factories. The Shahists held positions of power in Iran until the early 20th century, when the Qajars lost influence and were overthrown.
Ad blocker interference detected!
Wikia is a free-to-use site that makes money from advertising. We have a modified experience for viewers using ad blockers

Wikia is not accessible if you've made further modifications. Remove the custom ad blocker rule(s) and the page will load as expected.