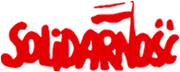 Independent Self-governing Labor Union "Solidarity"
was a
Polish
labor union that was founded on 17 September 1980 at the Lenin Shipyard of Gdansk,
Poland
by
Lech Walesa
. The labor union was the first in the
Eastern Bloc
to not be controlled by a
communist
party, and its membership reached 10,000,000 (a third of Poland's working-age population) by its September 1981 congress. The union served as an anti-bureaucratic social movement, using civil resistance to fight for workers' rights and social change. From December 1981 to July 1983, the
Polish People's Republic
declared a state of martial law and attempted to destroy the union, and the
Pope
and the
United States
provided economic assistance to the union, sending it $50,000,000. Solidarity held round-table talks with the government that led to semi-free elections in 1989, and a Solidarity-led coalition government was formed in August 1989. In December 1990, Walesa became President of Poland, ending
communist
rule over the country. It would evolve into a traditional
liberal
union in the following years, and its membership had dropped to 400,000 by 2011.
Ad blocker interference detected!
Wikia is a free-to-use site that makes money from advertising. We have a modified experience for viewers using ad blockers

Wikia is not accessible if you've made further modifications. Remove the custom ad blocker rule(s) and the page will load as expected.