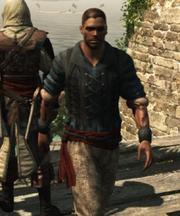 Suffolk Walthorn
 (1695-) was an
English
pirate
who was active in the
Caribbean Sea
during the
Golden Age of Piracy
.
Biography
Suffolk Walthorn was born in Torquay, West Country, England in 1695, and he worked as a sailor in the British Royal Navy during the War of the Spanish Succession. After the war's end, Walthorn turned to piracy to make mone for himself, captaining the brig Discovery. In 1715, he was captured by the British off the Bahamas and was sentenced to hang by the neck until dead, with Declan Barnes overseeing his hanging. However, he was rescued by Edward Kenway, who killed Barnes and the other British soldiers. Kenway had Walthorn meet him at his ship, the Jackdaw, and Walthorn became a member of Kenway's crew.
Ad blocker interference detected!
Wikia is a free-to-use site that makes money from advertising. We have a modified experience for viewers using ad blockers

Wikia is not accessible if you've made further modifications. Remove the custom ad blocker rule(s) and the page will load as expected.