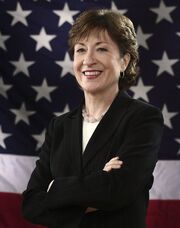 Susan Collins
(7 December 1952-) was a
US
Senator from
Maine
(
R
) from 3 January 1997, succeeding
Bill Cohen
.
Biography
Susan Collins was born in Caribou, Maine on 7 December 1952, the daughter of Donald and Patricia Collins, both of whom served as mayors of Caribou at times. She met Senator Margaret Chase Smith while she was a member of the US Senate Youth Program in her senior year of high school, and she would later hold Smith's seat in the US Senate. She graduated from St. Lawrence University in 1975 with a bachelor's degree in government, and she worked as a legislative assistant to Senator William Cohen and in state government from the 1970s to the 1980s. In 1994, she received the Republican Party's nomination for Governor of Maine, but she lost to the independent candidate, Angus King. In 1997, however, she was elected to the US Senate to fill her former boss Cohen's old seat. Collins and her colleague Olympia Snowe were centrist Rockefeller Republicans, with Collins being slightly more right-wing. She was pro-choice, an environmentalist, and supported same-sex marriage, did not vote for Donald Trump in 2016, opposed his Muslim ban, and sought to subpoena his tax returns. However, she supported his decision to fire FBI director James Comey.
Ad blocker interference detected!
Wikia is a free-to-use site that makes money from advertising. We have a modified experience for viewers using ad blockers

Wikia is not accessible if you've made further modifications. Remove the custom ad blocker rule(s) and the page will load as expected.