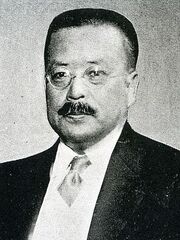 Takukichi Kawasaki
(8 March 1871-27 March 1936) was Minister of Commerce and Industry of
Japan
from 9 to 27 March 1939, succeeding
Chuji Matsuda
and preceding
Gotaro Ogawa
.
Biography
Takukichi Kawasaki was born in Kure, Hiroshima Prefecture, Japan on 8 March 1871, and he graduated from the Tokyo Imperial University law school before finding work with the Home Ministry. In 1916, he became governor of Fukushima Prefecture and later served as Director-General for Home Affairs in Taiwan, Director-General for Agriculture and Commerce, Mayor of Nagoya, Director-General of the National Police Agency, Deputy Home Minister, a member of the House of Peers with the Minsei Party. In 1936, he was chosen to serve as Prime Minister Keisuke Okada's Minister of Education, but the February 26 Incident forced the entire cabinet to resign. He was later named Minister of Commerce and Industry, but he died before he could take office.
Ad blocker interference detected!
Wikia is a free-to-use site that makes money from advertising. We have a modified experience for viewers using ad blockers

Wikia is not accessible if you've made further modifications. Remove the custom ad blocker rule(s) and the page will load as expected.