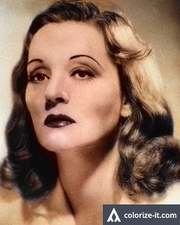 Tallulah Bankhead
(31 January 1902-12 December 1968) was an
American
actress and political activist. Bankhead came from a political family of
conservative
Southern Democrats
, but she supported
liberal
causes such as the
Civil Rights movement
and publicly opposed her family.
Biography
Tallulah Bankhead was born in Huntsville, Alabama, United States on 31 January 1902, the daughter of Speaker of the House William B. Bankhead. She was named for her grandmother, whose name came from Tallulah Falls, Georgia. Her grandfather John H. Bankhead and her uncle John H. Bankhead II were both Democratic Party senators, while her father was a prominent Democratic politician. Tallulah's mother died three weeks after her birth from septicemia, and she was mostly raised by her grandmother after her father became a depressed alcoholic. She went to private school in New York, where she became a showgirl. She did cocaine and marijuana instead of drinking, as her father was a prohibitionist. In 1923, she debuted on stage in London, and one of her shows won a Pulitzer Prize in 1925. She returned to the United States in 1931, and she starred in the 1932 movie Devil and the Deep alongside Gary Cooper. She also starred in Lifeboat in 1944, another critical success. Bankhead was known to be a charitable person, helping child refugees escape the Spanish Civil War and World War II.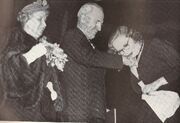 In 1948, Bankhead broke with many southerners by campaigning for the
Democrat
Harry S. Truman
's re-election as President of the
United States
. She publicly criticized her family's segregationist views and belittled
Republican Party
challenger
Thomas E. Dewey
, letting Truman win the election. At the inauguration parade, Bankhead booed
South Carolina
Governor
Strom Thurmond
as his float passed by, as Thurmond had led the segregationist
Dixiecrats
during the election. Bankhead did much more to anger her family; she was known as a libertine, once saying that six months without an affair was too long. She was also known to be bisexual, having affairs with famous leading men and ladies. Her alcohol, drug, and sex addictions took a toll on her, and her career had faded by the mid-1950s. She died of pneumonia in
New York City
in 1968, with her death being caused by cigarette smoking, malnutrition, and the flu.
Ad blocker interference detected!
Wikia is a free-to-use site that makes money from advertising. We have a modified experience for viewers using ad blockers

Wikia is not accessible if you've made further modifications. Remove the custom ad blocker rule(s) and the page will load as expected.