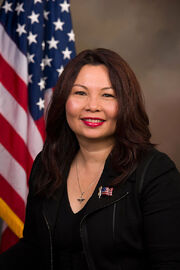 Ladda Tammy Duckworth
(12 March 1968-) was a
US
Senator from
Illinois
(
D
) from 3 January 2017, succeeding
Mark Kirk
. Duckworth previously served as a member of the
US House of Representatives
from Illinois' 8th district from 3 January 2013 to 3 January 2017, succeeding
Joe Walsh
and preceding
Raja Krishnamoorthi
. Duckworth was the second currently-serving
Asian
-
American
female senator (as of 2017) after
Mazie Hirono
, and she was the first Asian-American congresswoman from Illinois, the first disabled congresswoman, and the first member of the
US Congress
to be born in
Thailand
.
Biography
Tammy Duckworth was born in Bangkok, Thailand on 12 March 1968, the daughter of a US Marine Corps veteran with colonial American roots and a Thai mother of Chinese descent. Her father worked in refugee housing and other humanitarian programs, so the family moved around Southeast Asia a lot; Duckworth became fluent in Thai and Indonesian in addition to English. The family settled in Hawaii when she was sixteen, and she graduated from the University of Hawaii in 1989 with a bachelor's degree in political science.
Military service
While studying international affairs at George Washington University, Duckworth joined the ROTC program, and she became a commissioned officer in the
US Army
reserve in 1992 before flying helicopters into combat; at the time, that was one of the few combat roles that women could fill. She was studying at Northern Illinois University when she was deployed to
Iraq
in 2004, and she lost her right leg near the hip and her left leg near the hip when her Black Hawk helicopter was downed by
RPG
fire by
Iraqi insurgents
. She was the first female double amputee from the war, and she received a medical waiver; she reached the rank of Lieutenant-Colonel in the Illinois Army National Guard before her October 2014 retirement from the army.
Political career
Duckworth worked in the Illinois Department of Veterans Affairs for years, and she decided to launch herself into politics as a Democratic Party candidate for Illinois' 6th district in the US House of Representatives in 2006. She was supported by pro-choice groups, gun control groups, and the police, but she lost to Republican Party challenger Peter Roskam 51% to 49%. In 2012, however, she defeated Joe Walsh to become the congresswoman from the 8th district, becoming the first disabled woman to be elected to Congress and the first Asian-American congresswoman from her state. She was sworn into office on 3 January 2013, and she decided to run for the US Senate just two years later. Duckworth defeated the racist Republican Party senator Mark Kirk to become the Senator from Illinois, and she supported Obamacare, the right to choose, immigration reform, the admission of 100,000 Syrian refugees to the USA, and the auditing of US foreign aid.
Ad blocker interference detected!
Wikia is a free-to-use site that makes money from advertising. We have a modified experience for viewers using ad blockers

Wikia is not accessible if you've made further modifications. Remove the custom ad blocker rule(s) and the page will load as expected.