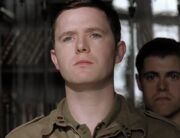 Terrence C. "Salty" Harris
(1920-18 June 1944) was a
US Army
Staff Sergeant who served with
Easy Company
, 2nd Battalion,
US 506th Infantry Regiment
during
World War II
.
Biography
Terrence C. Harris was born in Santa Monica, California in 1920, and he enlisted in the US Army airborne infantry during World War II. He became a staff sergeant of Easy Company, 2nd Battalion, US 506th Infantry Regiment while at Camp Toccoa, Georgia, but Harris and Myron N. Ranney were both demoted to Private for attempting to mutiny against Herbert Sobel in England in 1944. He volunteered to join the pathfinders of the US 101st Airborne Division, and he was killed by a sniper during the Battle of Carentan on 18 June 1944.
Ad blocker interference detected!
Wikia is a free-to-use site that makes money from advertising. We have a modified experience for viewers using ad blockers

Wikia is not accessible if you've made further modifications. Remove the custom ad blocker rule(s) and the page will load as expected.