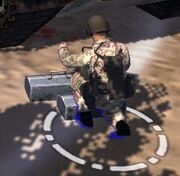 Thaddeus Peter Roland
(1944-1968) was a
US Army
tank crewman who was killed during the
Vietnam War
.
Biography
Thaddeus Peter Roland was born in Syracuse, New York in 1944, and he was drafted into the US Army in 1967. Roland was sent to serve in a tank crew during the Vietnam War, and he took part in combat operations as armored support for riflemen. In 1968, Roland's tank was immobilized by NVA troops during the Tet Offensive, and Roland and Solomon McFadden were the only survivors. NVA troops began to overwhelm the hill on which their tank was stranded, and Roland set about repairing the tank as McFadden held off dozens of attackers with just a pistol. McFadden was gunned down as Roland finished repairing the treads. Roland proceeded to fix the right side of the tank as supporting riflemen arrived, but Roland was bblown up by a North Vietnamese grenade. Ironically, his death occurred just a second after he had finished repairing the tank.
Gallery
Ad blocker interference detected!
Wikia is a free-to-use site that makes money from advertising. We have a modified experience for viewers using ad blockers

Wikia is not accessible if you've made further modifications. Remove the custom ad blocker rule(s) and the page will load as expected.