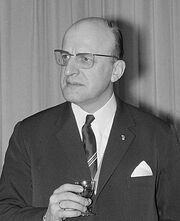 Theodore Joseph Alberic Marie "Theo" Lefevre
(17 January 1914-18 September 1973) was Prime Minister of
Belgium
from 25 April 1961 to 28 July 1965, succeeding
Gaston Eyskens
and preceding
Pierre Harmel
. Lefevre was a member of the
Christian democratic
PSC-CVP
party.
Biography
Theo Lefevre was born in Ghent, Belgium on 17 January 1914 to a Roman Catholic French family, and he became a member of the PSC-CVP party. From 1946 to 1971, he served in the Chamber of Representatives, and he was a member of the Belgian Senate from 1971 until his death in 1973. Lefevre served as Chairman of the PSC-CVP from 1950 to 1961, and he became the leader of a coalition government with the socialists after the fall of Gaston Eyskens' government in 1961. Lefevre oversaw Belgium's intervention in the Congo Crisis in Operation Dragon Rouge, and he also oversaw the passage of a health care reform that was passed only after several concessions were made. The unpopular Lefevre chose not to run again in 1965, and he served as a Minister without Portfolio in 1968, managing scientific policy until 1972.
Ad blocker interference detected!
Wikia is a free-to-use site that makes money from advertising. We have a modified experience for viewers using ad blockers

Wikia is not accessible if you've made further modifications. Remove the custom ad blocker rule(s) and the page will load as expected.