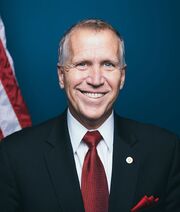 Thomas Roland "Thom" Tillis
(30 August 1960-) was a
US
Senator from
North Carolina
(
R
) from 3 January 2015, succeeding
Kay Hagan
.
Biography
Thomas Roland Tillis was born in Jacksonville, Florida on 30 August 1960, and his family frequently moved; he went to school in New Orleans, Nashville, and several other cities. After high school, he decided to work for Provident Life & Trust Company in Chattanooga, Tennessee, and Boston's Wang Laboratories decided to hire Tillis. In 1997, he graduated from University of Maryland University College, earning a bachelor's degree in technology management. In 1998, he moved to Cornelius, North Carolina, and he worked as a partner at IBM. In 2002, he was elected to Cornelius' park board, and he served as Town Commissioner from 2004 to 2006. From January 2007 to January 2015, he served in the North Carolina House of Representatives from the 98th district as a Republican Party politician, and he served as Speaker of the House from 2011 to 2015.
In 2014, Tillis kept his promise to only serve four terms in the Genreal Assembly, and he decided to run for Kay Hagan's US Senate seat. Jeb Bush, Pat McCrory, Mitt Romney, and the Chamber of Commerce endorsed him, and he won the election with 48.82% of the vote in the lowest winning total for a North Carolina US Senate candidate in history. In 2017, he was one of 22 senators to sign a letter to Donald Trump urging him to withdraw from the Paris Agreement.
Ad blocker interference detected!
Wikia is a free-to-use site that makes money from advertising. We have a modified experience for viewers using ad blockers

Wikia is not accessible if you've made further modifications. Remove the custom ad blocker rule(s) and the page will load as expected.